Zdravím všechny zase po delší době u nového článku!
Dlouho jsem neměla náladu ani čas něco napsat, ale před týdnem jsem začala cvičit třicetidenní výzvu podle
Peťi Elblové
a přišlo mi to jako dobrý námět na článek a věřím, že mnohé z vás by to mohlo bavit. Vždycky jednou za čas bych vám napsala jak to pokračuje a jaké z toho mám pocity. Tak doufám, že vás to bude aspoň trošku bude bavit.
Jako první věc chci strašně poděkovat Peťi, protože cvičit podle jejích videí mě strašně baví. Abych vám to objasnila, každý den cvičíte podle dvou jejích videí a každý čvrtý den máte voraz. Sportuji a dříve jsem častokrát cvičívala, takže si troufám říci, že nejsem začátečník, ale sama jsem nikdy moc cvičit nevydržela a takhle má moje cvičení konečně nějaký řád a každým dnem se těším na další a další videa.
---
Jak jsem říkala, cvičím už sedmým dnem a dnes mě ještě čeká ještě cvičení zaměřeno na nohy a zadek. Cvičení mě fakt hodně baví, i když mě někdy Peťa dohání k šílenství a fakt někdy umírám. První den byl celkem těžkej, jelikož hned první video bylo zaměřeno na ruce a to jsem hned odpadla a to druhý bylo na spodní část břicha, to sice šlo, ale po těch rukách jsem byla už totálně vyčerpaná. Zatím mi největší problém dělalo již zmiňované cvičení na ruce, jelikož jsem nebyla nikdy zvyklá ruce nějak více cvičit, tak u toho jsem opravdu umírala, ale jinak to celkem šlo. Zatím mě fakt hodně bavilo cvičení na břicho, cvičící video s pohovkou a jedno z cardiových videí. Jak jsem již řekla, dnes mě ještě čekají nohy a zadek a na to se fakt moc těším, jelikož cvičení nohou mě fakt hrozně baví a samotné video na nohy jsem ještě od Peťi necvičila, tak se těším, jaké to bude.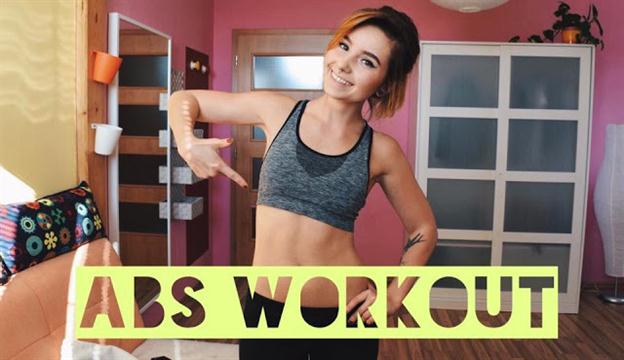 Doufám, že vás tenhle článek bavil a možná trochu motivoval a třeba taky začnete cvičit s Péťou. Kdybyste měli zájem, tak
TADY
je celý článek o zmiňované sestavené třicetidenní výzvě. Možná vám za pár dní napíšu podrobněji moje pocity ohledně videí a jak jsem se cítila a jaké cviky se mi zdály nejtežší v daném dni. Tak se zatím mějte krásně a makejte stejně jako já!